Public Health
Dear Visitors:
We're asking anyone who is not a primary resident of Catalina Island or providing essential services to our residents NOT to visit Catalina for the time being. The reason is simple: as a small, remote island community our healthcare facilities lack the capacity to handle a widespread outbreak of COVID-19. Additionally, services on Catalina Island are currently extremely limited.
We know that the CDC, WHO and the state of California government officials are recommending social distancing, and Catalina Island might seem like the perfect place for that, we also fully understand the inclination to seek escape in the outdoors during difficult times, but the reality is that doing so right now risks lives. 
This is a hard message for us to send, as we know how many of you cherish the island, but we ask you to respect our community and this request to stay home for now. If we all work together to do the right thing during this public health crisis, we'll all be able to enjoy Catalina Island in a responsible and respectful way sooner rather than later.
For additional information from local health and travel organizations, view the link on this microsite or visit the City of Avalon COVID-19 information page.

Thank you,
Jim Luttjohann, President & CEO
Catalina Island Chamber of Commerce & Visitors Bureau
P.S. Per National and State directives, essential services remain operational on the island.
---
---
Latest News
3/27/20 County of Los Angeles Department of Public Health Order
Public trails, beaches and Piers are closed for public access until further notice
Hiking Trails, beaches and piers on Catalina Island Conservancy land are closed.
View Order (link to PDF) - Addendum to Safer at Home Order for Control of COVID-19
3/26/20 - Avalon City Council Emergency Ordinance
Non-hotel transient occupancies are prohibited, and the right to conduct a transient occupancy either through a conditional use permit or grandfathered conditional use permit are suspended, during the period of local emergency, unless the transient occupancy is for a person performing any work necessary or providing any services to Essential Businesses or Essential Infrastructure or Healthcare Operations, as those terms are defined in the Los Angeles County Safer at Home Order, as may be amended.
New transient occupancies of city-owned moorings are prohibited for non-residents during the period of local emergency and only owners of moorings may use their moorings, they cannot be used by non-owners.
View Order (link to PDF)
3/23/20 - Los Angeles County Emergency Operations Center COVID-19 Update
3/21/20 - Revised "Safer at Home" Order from County of Los Angeles Department of Public Health
3/20/20 - Coronavirus FAQ for Immigrants - LA County Office of Immigrant Affairs
3/19/20 - "Safer at Home" Order Issued in Los Angeles
---
3/19/20 - CA Governor Gavin Newsom Issues Stay at Home Order
IT IS HEREBY ORDERED THAT:
To protect public health, all individuals living in the State of California to stay home or at their place of residence except as needed to maintain continuity of operations of the federal critical infrastructure sectors.
The healthcare delivery system shall prioritize services to serving those who are the sickest and shall prioritize resources.
The Office of Emergency Services is directed to take necessary steps to ensure compliance to this Order.
This Order shall be enforceable pursuant to California law. 
Read full order. (link to pdf on gov.ca.gov)
What You Need to Know (link to CA Gov website - COVID-19 FAQ)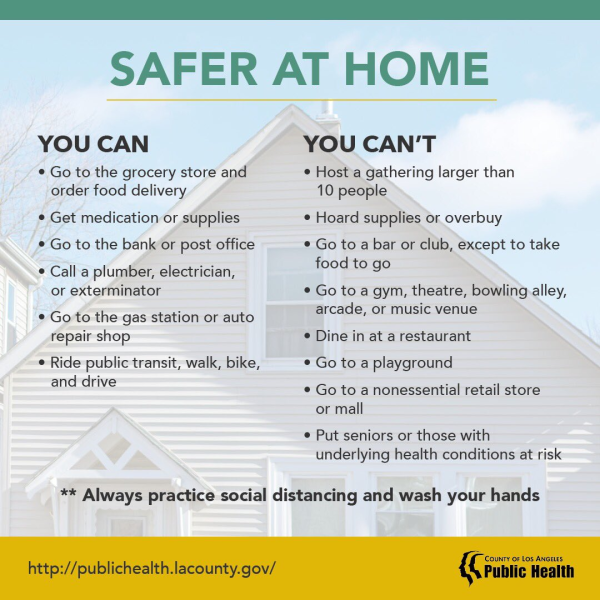 ---
Update from President Trump - 3/31/2020
Avoid the following:
Work or engage in schooling from home
Avoid social gatherings
Use drive-thru, pick up or delivery options for restaurants
Avoid discretionary travel
Do not visit nursing homes, retirement or long-term care facilities
Follow the above for at least 30 days.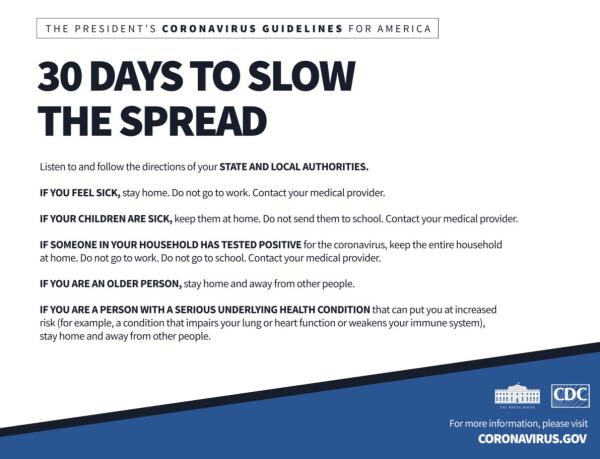 ---
The California Department of Public Health
The following have been orders have been issued:
Gatherings should be postponed or canceled across the state of California for at least the remainder of the month of March.  
Closures of bars and nightclubs that do not serve food, gyms, fitness centers, movie and performance theaters, bowling alleys and arcades.
Avoid non-essential travel, public gatherings, and places where large groups of people congregate.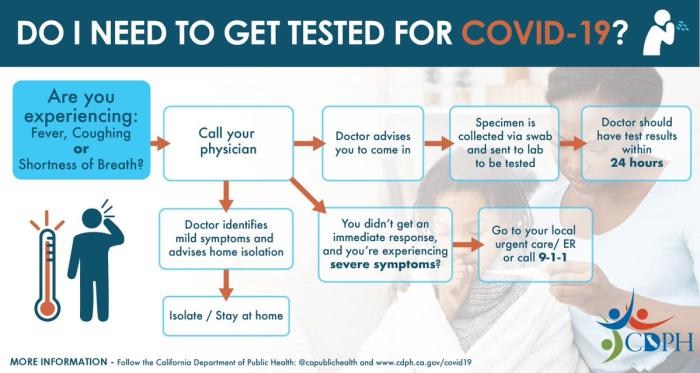 California Department of Public COVID-19 Updates
---
City of Avalon & Avalon City Council
The Avalon City Council takes the health, safety, and public welfare of our community as our first and most important priority. The City of Avalon has been closely monitoring the Coronavirus (COVID-19) situation and are in contact with local, state, and national health agencies regularly.
There will be continuous updates on the City website (www.cityofavalon.com) regarding the situation. We will continue to pay close attention to this developing epidemic. We ask the community for your help.
City of Avalon Coronavirus Updates (link to City website)
To view the presentation on the Coronavirus given at the Avalon City Council March 2, 2020 meeting please follow the link here. (Video clip)
City of Avalon Cancelled Events (PDF)
City of Avalon Update 3/13/20 (PDF) - Includes temporary moratorium of all cruise ship tenders in Avalon Harbor waters through April 30, 2020, Changes to City operations, enhanced cleaning schedule & procedures, etc. View 
City Council Meeting 3/17/20 (Video) - Includes update from Catalina Island Medical Center.
City of Avalon Emergency Ordinance - Passed 3/25/20 (PDF)
---
Additional information about the coronavirus can be found here: