Catalina Island Medical Center
3/27/20 Update
We have received many requests about the results of patients who have been tested to detect possible cases of COVID-19. Since March 15, 2020, six patients have been analyzed to detect the COVID-19 virus and everyone has negative results. Prior to today, the number of patients tested was too small for CIMC to allow this information to be disclosed to the public without possibly disclosing protected patient information from the people assessed. We appreciate the community's understanding of CIMC's strict values to protect the confidentiality of our patients.
Catalina Island Medical Center recommends being very careful when handling this disease. CIMC recommends practicing good hygiene as a precaution for our community and continuing social distancing. We will continue to evaluate the situation as it evolves and keep the community updated. Notify in advance before visiting a health care center or when you call 911.
3/16/20 Update
We at Catalina Island Medical Center (CIMC) want to keep you informed and up to date regarding COVID-19 and accessing care on Catalina Island during this extraordinary time. The safety of our patients, staff, and the community remains our top priority. We want to assure you that our facilities remain open and CIMC is taking all the necessary and critical steps to keep you safe and healthy.
CIMC is implementing the proper infection-prevention protocols. Taking into consideration its current facility bandwidth and limitations, CIMC is working with UCI Department of Emergency Medicine and CIMC physicians to prepare itself to handle potential COVID-19 cases that may show up at the medical center and still be able to safeguard patient care access for the community.
We are asking you to work with us, and together, we will confront the COVID-19 pandemic. It is more important than ever to take care of one another and be diligent and wise in our daily activities. A critically important part of that means adhering, unequivocally, to the behavioral and infection prevention guidelines that have been strongly recommended by our care experts. Here's what we want you to know.
Regarding patient care at CIMC
As of today, March 16, 2020, there have been NO KNOWN cases of COVID-19 on Catalina Island.

We continue to monitor the situation closely in lockstep with our federal and state officials so that we do our part to control the transmission of the COVID-19 and stay ready to mitigate its impact to our community.

We will screen all who come to medical center before admission.
We will contact clinic patients with existing appointments to assess if appointments should be kept, done over the phone or rescheduled.

If you need access care during this time, please call our clinic at at 310-510-0096 so we can be prepared to ensure the health and safety of you and our other patients and staff. Hours for the phone line are 8 am-5 pm Monday - Friday. Voicemails will be responded to in the next business day.

We will temporarily close Physical Therapy/Occupational Therapy.

Therapists will provide printed and digital materials of exercises for patients to do at home.

For the time being, visiting specialists appointments will be rescheduled.
Effectively immediately, the only visitors allowed at the medical center are guardians of a child/minor or individuals with special needs.
Currently CIMC works with Quest Diagnostics for offsite testing. This process is being used by hospitals in California. We are following Department of Public Health guidelines on which patients we are able to test.
There is no specific treatment for illness caused by the novel coronavirus. However, many of the symptoms can be treated.
There is currently no vaccine to prevent novel coronavirus. Be aware of scam products for sale that make false claims to prevent or treat this new infection.
Recommendations to reduce your risk
Observe deep social distancing and isolation.

Avoid crowds and large gatherings, especially in poorly ventilated spaces.

Take everyday precautions to keep space between yourself and others (ideally 6+ feet).

Avoid close contact with people who are sick.
When you go out in public, keep away from others who are sick, limit close contact and wash your hands often.

Stay home unless you need to acquire food or medication in order to reduce your risk of being exposed to COVID-19.

California Governor Gavin Newsom has called for home isolation of everyone in the state age 65 and older, and people with chronic disease, both high-risk populations. If you fall in this population, it is recommended you designate someone in your household to help you acquire food and medication during this time.

Wash your hands often with soap and water for at least 20 seconds, especially after blowing your nose, coughing, or sneezing, or having been in a public place.

If soap and water are not available, use a hand sanitizer that contains at least 60% alcohol.

To the extent possible, avoid touching high-touch surfaces in public places – elevator buttons, door handles, handrails, handshaking with people, etc. Use a tissue or your sleeve to cover your hand or finger if you must touch something. Wash your hands after touching surfaces in public places.
Avoid touching your face (nose, eyes and mouth). This is not easy to do. The average person will touch their face about 20 times each hour. Your eyes, nose and mouth are primary access points for viruses.
Clean and disinfect your home to remove germs: practice routine cleaning of frequently touched surfaces (for example: tables, doorknobs, light switches, handles, desks, toilets, faucets, sinks & cell phones).
Avoid all non-essential travel.
Tips for Families and Caregivers
Those who care for older adults can take steps to ensure their needs are met while staying safe.
Know what medications your loved one is taking and see if you can help them have extra on hand.
Monitor food and other medical supplies needed and create a back-up plan.
If you care for a loved one living in a care facility, monitor the situation, and ask about the health of the other residents frequently.
There is a lot of misinformation and understandable concern about COVID-19. For the very latest facts, we encourage everyone to visit the Centers for Disease Control and Prevention's (CDC) website for COVID-19. Please know that CIMC will be with the community every step of the way. Our commitment to you is that we will continue to share important guidelines, practices and critical updates as the situation evolves, to both keep you informed and keep you well. For the most up-to-date information, please visit https://cimedicalcenter.org/coronavirus/ or join our facebook page at https://facebook.com/CatalinaIslandMedicalCenter/ . Again, thank you for your patience and continuing support during this unprecedented time in our nation and community's history. We remain committed to protecting your safety while maintaining high quality care for the community.
Sincerely, Catalina Island Medical Center
Please click on the link to obtain the most up to date information to protect yourself. https://cimedicalcenter.org/coronavirus/
---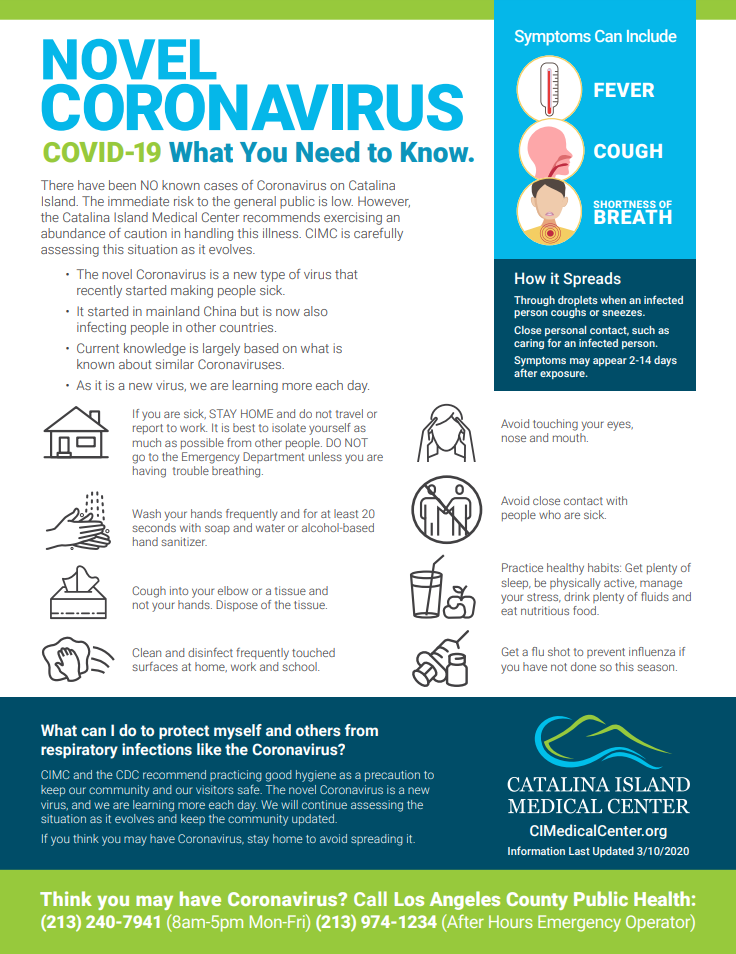 ---
3/17/20 - Dr. Daniel Davis MD, FACEP presents on COVID-19 at the Avalon City Council Meeting
Catalina Island Medical Center's Dr. Daniel Davis MD, FACEP presents an in-depth look at the coronavirus, covering what makes COVID-19 a unique threat and how and why we are attempting to prevent its spread within our community.
This special Avalon City Council presentation includes specific concerns about the aging population of Catalina Island and an overview of CIMC patients, staffing, equipment, and hospital surge capacity alongside the risks of COVID-19. Dr. Davis also covers testing criteria and procedure for COVID-19 as provided by the CDC.
After the presentation, Dr. Davis answers pressing questions from the Catalina Island community.
CIMC continues to play a vital public health role for Catalina Island and we encourage all residents to be responsible and protect the vulnerable citizens of our community. This is an unprecedented time in the world, and we commend the leadership and courage of our community. We are all in this together.
To view the full City of Avalon City Council Meeting from March 17, 2020 click here scroll down to "Available Archives" click on 2020, and then click "Video" under the March 17th posting.
---
3/20/20 - CIMC Weekly COVID-19 Update - Dr. Daniel Davis on Testing
---
---
3/24/20 CIMC Weekly COVID-19 Update - Dr. Aimee Warren on Telemedicine
CIMC Weekly Update – Dr. Aimee Warren on Telemedicine March 24, 2020 Catalina Island Medical Center's Dr. Aimee Warren, D.O. covers how you can stay connected to your CIMC healthcare providers and services via telemedicine for everything from quick provider check-ins and virtual visits to social services and telehealth for ...
3/27/20 - CIMC Weekly Update – Kymberlee Stanley, LCSW on Mental Health and Wellness
Catalina Island Medical Center's Director of Social Services, Kymberlee Stanley, LCSW covers Mental Health during COVID-19. At CIMC, we are very aware that many people in our community are going through tremendous emotional and environmental stress.